Castle Hill Blog 16/06/23
Welcome to the weekend, what a spectacular week it has been!
DIY Dedication!
Our incredible site manager Andy MacFall has recently benefitted from the talents and support of Kian Blundell, Year 10. Who has shown great initiative and skill in a range of DIY maintenance jobs around School. Sometimes he has even given up his break-time to help out...I'm sure you will agree that this is worthy of a massive Castle Hill high five!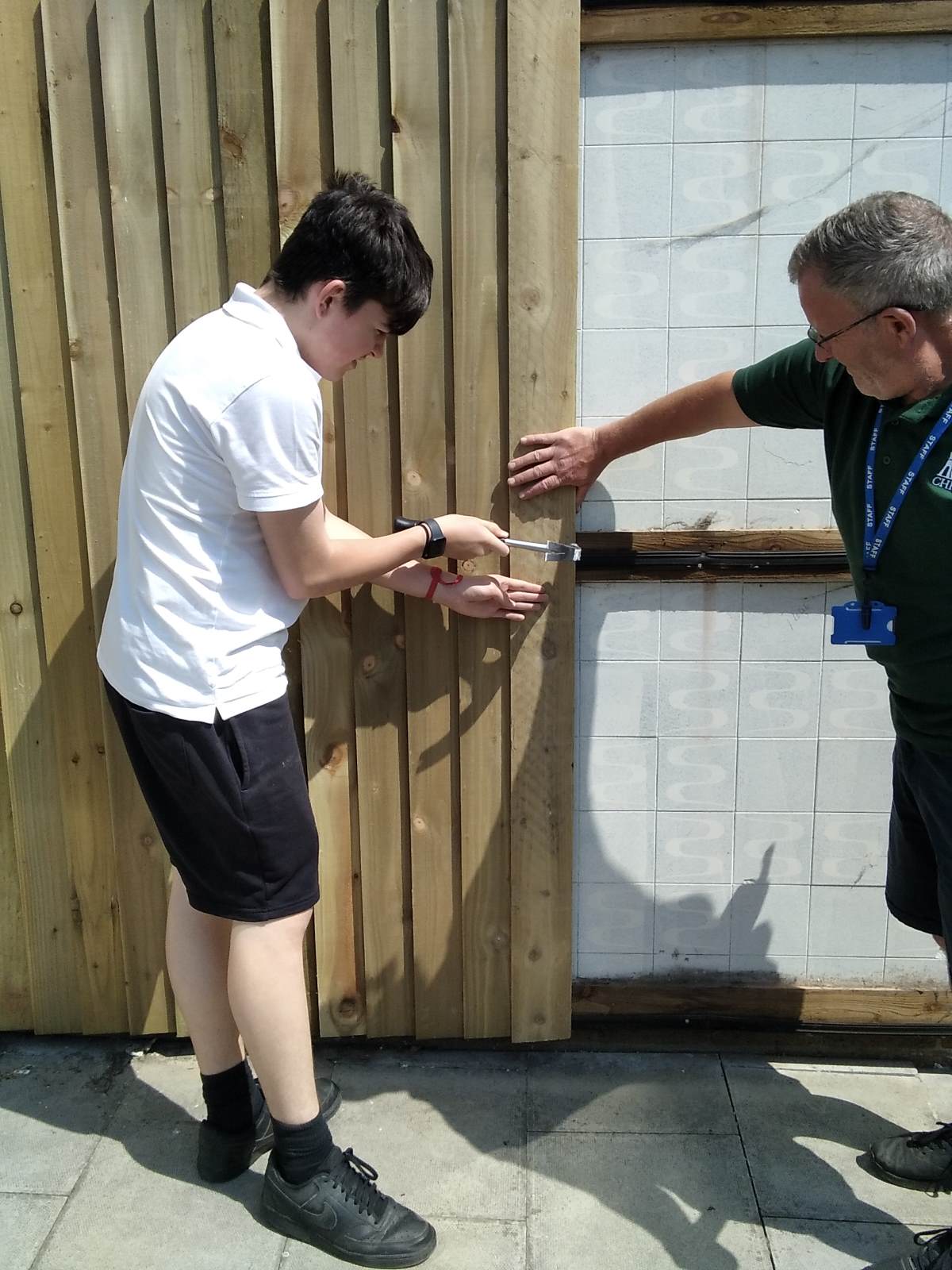 Child Care
This week's Blog spotlight is on our Child Care course led by our innovative and dedicated subject lead Ruth Smolka. I am sure we all agree that caring for our children is the most important job we will ever do. Ruth has brought this course to life by facilitating the pupils' first hand experience of working with her own children.
The Entry Level Award in Caring for a Child/ Children is a course designed to stimulate interest and encourage pupil's understanding of the skills needed to care for a baby or young child.
Some of the topics covered over the 2 year course are:
Confidence building for the young child through play
Providing a safe and hygienic environment for a young child
Routines for a young child
Play and learning in the home
Responsibilities of new parents
Children's play and leisure activities in the community
This year pupils have had opportunities to plan, prepare and set up play sessions for toddlers and babies where they have enjoyed interacting, guiding and playing with the children. They have had several opportunities to engage in practical hands-on sessions where they have had to problem solve, generate safe environments and take part in a bedtime routine where they learnt the roles and responsibilities of the adult/ carer.
Year 11 Traditions
Yesterday I was given the honour of experiencing some of Castle Hill's Year 11 leavers' traditions....
Staff v Pupils Football match!
The atmosphere was sizzling as the Year 11s took on the mighty competition of the staff team. The tension rose as the score line was 2-2, but ended in a crescendo of glory for the pupils who won on penalties. Needless to say the crowd erupted with celebratory cheers!
Signing of Shirts
An age old tradition for Year 11s to wish their friends all the very best for the future has been taken to a new level of brilliance by some our fantastic Year 11 pupils. I'm sure you will agree their designs are truly magnificent!
Looking Ahead... Dates for the Diary:
Date

Event

Mon 19th June

Year 13 Leaving Day (leave at 12pm)

Thurs 22nd June

Year 11 Prom – at Stockport County (6pm-9.30pm)

Mon 26th June

Year 10 Stockport College visit - AM

8W Trip to RNLI Hoylake

Wed 28th June

Year 8 second HPV vaccination

Friday 30th June

Non-Pupil Day-Staff Training Day

Fri 7th July

Non-uniform day Donations of Sweetie Cups (for summer fair)

Saturday 8th July

Castle Hill Summer Fair

Tues 18th July

Year 7 – Gulliver's World trip

Thurs 20th July

Break up at 1pm for summer holidays
Summer Holiday Club-Autisk
Have a great weekend!